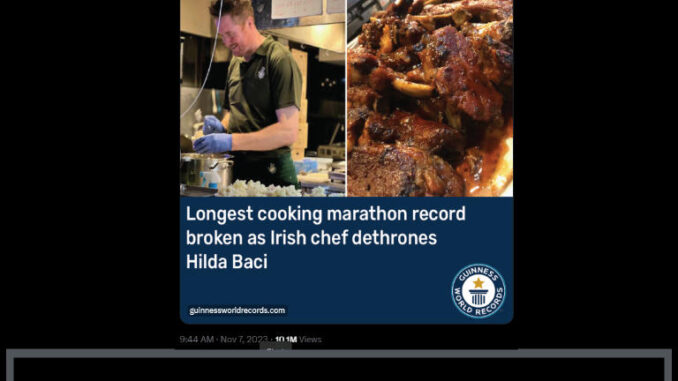 According to Guinness World Records (GWR), the new holder of the award for the longest cooking marathon is Irish Chef, Alan Fisher. Hilda Baci was the former holder after she dethroned Lata Tondon.
Alan Fisher GWR went further to state that Alan Fisher claimed two awards. The first is the longest cooking marathon(individual) when he cooked for 119 hours and 57 minutes making it 24 hours longer than Hilda Baci the previous holder.
The second award that Alan Fisher has is the longest baking marathon(individual), when he baked for 47 hours 21 minutes while the previous holder Wendy Sander(USA) baked for 31 hours 16 minutes.
You can read more on GWR's website.
Read the press release
Nigerian cooking queen Hilda Baci has been dethroned.
Alan Fisher from Ireland cooked for an incredible 119 hours and 57 minutes at his restaurant in Japan.
Link: https://www.guinnessworldrecords.com/news/2023/11/longest-cooking-marathon-record-broken-as-irish-chef-dethrones-hilda-baci-760455