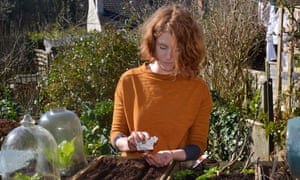 Learn how to create the perfect environment for growing fruit and veg at this incredible seminar with Guardian columnist Alys Fowler.
Homegrown food is good for the environment and good for the soul. Whether you want to grow fruit and veg in your garden, allotment or windowsill, this masterclass is an incredible opportunity to learn from Alys Fowler, Guardian columnist and author of The Edible Garden.
During this fun morning lecture, Alys will reveal the secrets to producing juicy fruits, crunchy vegetables and fresh salads. Plus, she'll share tips on creating the perfect environment for growing food, as well as advice on how to become a more thrifty and resourceful gardener.
More about the teacher…
Alys Fowler is a horticulturist and journalist. She writes a weekly column for the Guardian, where she shares her wisdom on growing vegetables, fruits and flowers. Alys has been the presenter of long-running BBC television programme Gardeners' World, and is the author of several books including The Edible Garden and Abundance. She tweets @AlysFowler.
Gardening month curated by Alys Fowler
This is part of a series of gardening classes specially curated by Guardian columnist Alys Fowler for the month of May. You may also be interested in these classes:
Keep an eye on our website or sign up to the Guardian Masterclasses newsletter to be among the first to hear about more classes in this exclusive series, taught by some of the UK's finest gardening experts, foragers and designers.
Detail
Date: Sunday 8 May 2016
Times: 10am-12pm
Location: The Guardian, Kings Place, 90 York Way, London N1 9GU
Price: £39 (includes VAT, booking fee and drinks)
Event capacity: 100
Please visit for more information: http://www.theguardian.com/guardian-masterclasses/2015/dec/14/growing-your-own-fruit-and-veg-with-alys-fowler