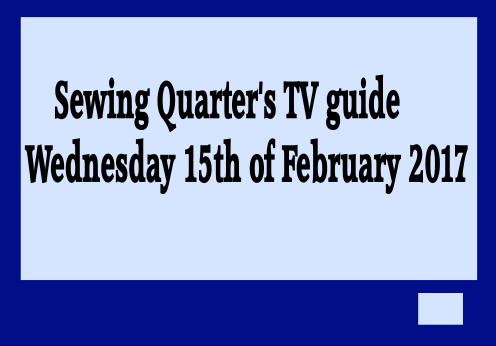 Here is Sewing Quarter's TV guide for Wednesday 15th of February 2017.
08:00 AM: Mini Masterpiece –Welcoming new guest designer Joy Edgington, who'll be creating a miniature quilt with a kit by Rachels of Greenfield.
09:00 AM: Artful Appliqué – What better way to learn new appliqué techniques than with stunning Amy Butler fabrics? With expert guidance from Angela Atwood.
10:00AM:  Beautiful, Bold Blocks  – Boundless block ideas and some stunning Trinkets Fabrics brought to you by guest quilter Joy Edgington.
11:00 AM: Technique Time – Get your cutting down to a tee and step into the wonderful world of Amy Butler fabrics, with guest Angela Atwood.
Watch Sewing Quarter on,
Freeview 78
Online – https://www.sewingquarter.com