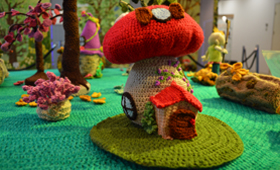 The Spring Knitting and Stitching show are taking place on the 2nd -5th of March 2017 in Olympia London.
Read the press release below.
Come along to The Spring Knitting & Stitching Show and follow our Campaign for Creativity Trail. Embark on this creative journey and learn new skills or master existing techniques.
Knitting and crochet drop-ins, The Sew Today Pattern Classroom and tours of the professionally curated textile galleries are all part of the trail.
This spring we are spreading the magic of knitting by inviting you to take part in our all knitted (or crocheted) Enchanted Wood Competition which will be displayed at the show.
Want to have a go at knitting (or crocheting) your own creation for the Knitted Garden? The Louise Hamilton Knit and Yarn Group are creating an enchanted forest for you to add your masterpieces too. Think Enid Blyton's The Enchanted Wood meets Secret Garden with a bit of Lord of the Rings thrown in for good measure.
From knitted fairies, elves, hobbits, witches, wizards and pixies to knitted toadstools, tree trunks, logs, burrows we're challenging you to make a magical creation for our all knitted Enchanted Forest.
All the entries will be entered into the knitted garden competition to win top prizes.
Book your tickets now and begin your craft adventure. Call 0844 581 1319 (+44 (0) 121 796 6165 from outside the UK).
Link: http://www.theknittingandstitchingshow.com/spring/things-to-do/the-butterfly-garden/