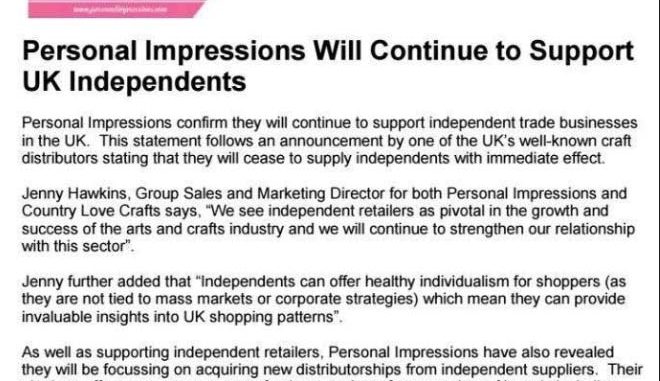 According to a post by Personal Impressions, they will continue to support UK independent trade businesses.
Read the press release below(see screenshot too).
Personal Impressions confirm they will continue to support independent trade businesses in the UK. this statement follows an announcement by one of the UK's well-known craft distributors stating that they will cease to supply independents with immediate effect.
Jenny Hawkins, Group sales and marketing director for both Personal Impressions and Country Love crafts says, "We see independent retailers as pivotal in the growth and success of the arts and crafts industry and we will continue to strengthen our relationship with this sector".
Jenny further added that "Independents can offer healthy individualism for shoppers(as they are not tied to mass markets or corporate strategies) which mean they can provide invaluable insights into UK shopping patterns".
As well as supporting independent retailers, Personal Impressions have also revealed they will be focusing on acquiring new distributorships from independent suppliers. Their aim is to offer a great assortment of unique products from a variety of brands including those who are new or less well-recognised. For example, coming to market is a new range of dies called "Florartistry" developed by up and coming designer Sharon Callis.