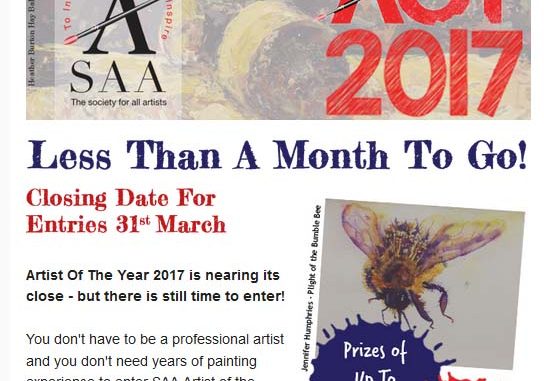 The Society for all artist(SAA) Artist of the year competition 2017 is closing on the 31st of March 2017.
Read the press release below.
Artist Of The Year 2017 is nearing its close – but there is still time to enter!
You don't have to be a professional artist and you don't need years of painting experience to enter SAA Artist of the Year. All you need is a passion for painting! Open to all ages and abilities, there is a huge number of categories to choose from and you can paint or draw in the medium of your choice.
Artist of the Year – 2017: entry can be submitted in one of following categories
Abstract or Experimental Art
Animal or Wildlife
Digital Art
Flowers or Gardens
Landscape or Woodland Scene
Portrait or Figure
Still Life
Waterscape, Boats or Seascape
SAA members can submit unlimited entries for FREE – saving £7.50 per entry.
With 45 prizes up for grabs, there are plenty of chances to win so pick up your paintbrushes, assemble your easels and get your imaginations firing.
Link: http://community.saa.co.uk/competition/competition_view.php?competition