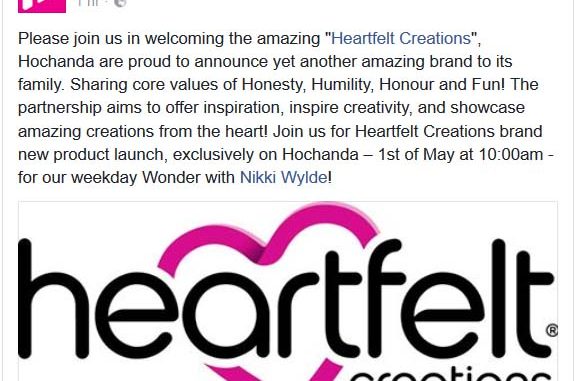 According to a post by Hochanda TV on its facebook page, Heartfelt Creations are joining  Hochanda TV.
Read the press release below( screenshot of post and caption).
Please join us in welcoming the amazing "Heartfelt Creations", Hochanda are proud to announce yet another amazing brand to its family. Sharing core values of Honesty, Humility, Honour and Fun! The partnership aims to offer inspiration, inspire creativity, and showcase amazing creations from the heart! Join us for Heartfelt Creations brand new product launch, exclusively on Hochanda – 1st of May at 10:00am – for our weekday Wonder with Nikki Wylde!