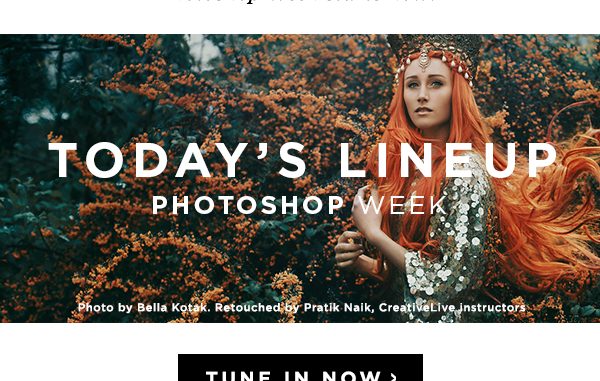 Enjoy inspiring time of  knowledge during Photoshop week on Creativelive.
Portrait compositing from start to finish with Matt Kloskowski at 9AM – 12:15PM (PT).
Working with curves in Photoshop® CC® with Jesus Ramirez at 9AM – 10AM(PT).
Automating your post-processing workflow with Daniel Gregory at 10:45 – 12:15PM(PT).
Cloning, Healing and removing distraction in Photoshop with Matt Kloskowski at 1:15 – 2:45PM(PT).
Hidden Photoshop tips and tricks with Jesus Ramirez at 1:15 – 2:45PM(PT).
The power of lightroom presets with Matt Kloskowski at 3:30- 4:30 PM(PT).
10 tools every beginner needs in Photoshop with Colin Smith at 3:30- 4:30 PM(PT).
Link: https://www.creativelive.com/photoshop-week?