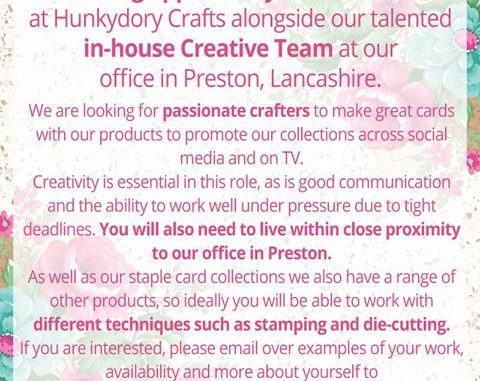 Do you love Hunkydory crafts products? Do you love stamping and die-cutting? Do you want to work with Hunkydory crafts? Then read the poster below and remember it closes today the 15th of May 2017.
From the poster.
The exciting opportunity has arisen to work at Hunkydory crafts alongside our talented in-house Creative Team at our office in Preston, Lancashire.
We are looking for passionate crafters to make great cards with our products to promote our collections across social media and on TV.
Creativity is essential in this role, as is good communication and the ability to work well under pressure due to tight deadlines.
You will also need to live within close proximity to our office in Preston.
As well as our staple card collections we also have a range of other products, so ideally you will be able to work with different techniques such as stamping and die-cutting.
If you are interested, please email over examples of your work, availability and more about yourself to
creativeteam@hunkydorycrafts.co.uk
by 15th May 2017.