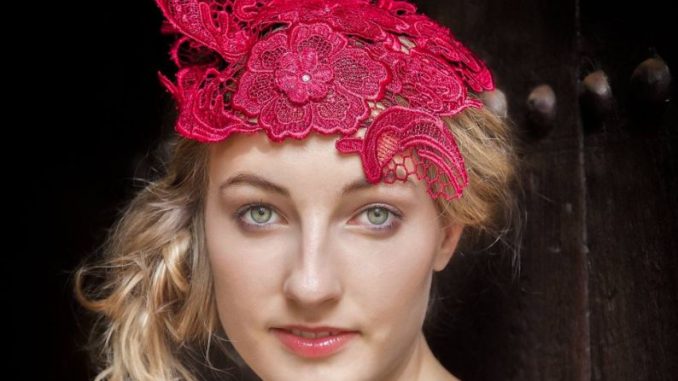 Atelier Mela will be hosting  3 Millinery Workshops  with Jane Smith (UK) and Jane Stoddart(Australia) this summer in Fullerton, California
Read the press release below.
In Fullerton, California with Jane and Jane!
This summer Fullerton in California will be providing milliners with an opportunity to learn with Jane Smith from the UK and Jane Stoddart from Australia. Atelier Mela is hosting 3 Millinery Workshops with Jane Stoddart.
June 16
Stiffened, Sculpted and Embellished Lace
This class explores the use of lace in millinery. Students will learn how to design with a pattern over
| | |
| --- | --- |
| | |
| | Jane Stoddart. Photography by Su Larkins |
the face and head, and experiment with complex outlines.
June 17
Veiled Elegance: Working with Crinoline and Lace
This class will develop students' skills for mainpulating and designing with nylon crinoline and embellishing the pieces with lace and crystals.
June 18
Quick Blocked Leather Base with Leather Feathers
In this class, you will learn the basics of creating a blocked leather base. You will then create or copy a pattern for a feather, in leather, which you will then wire and handcut.
A couple of months later Fullerton College will host 3 Millinery Workshops with Jane Smith.
August 4 – 6
Tricorns and Bicorns
In this three day master class, you will learn about the history of tricorns and bicorns and how they were created in the 18th and 19th centuries.
August 7 – 9
Wire Frame -1900 thru 1920's
Using millinery wire and lace or sheer fabric, you will create at least one Edwardian/Teens/1920s hat similar to hats seen in the movies "Cheri", "Titanic", Howard's End" and "Enchanted April".
August 11 – 13
Blocking Straw and Fur Felt
Using both fur felt and straw hoods, you will block on our wooden hat blocks two hats suitable for the 1920s to the 1950s.
Send an email to
missmela@aol.com
for more details regarding any of the above classes.
* * * * * * * * * * * * * * * * * * * * * * * * * * * * * * * * * * * * * * * * * * * * * *
Jane Stoddart will also be teaching the same classes in New York at East Village Hats on 27 – 29 May  and 3 – 5 June. Then she will head to Canada for 10 – 11 June to teach at Jaycow Millinery in Toronto. For the classes in Canada email jay@jaycow.com.