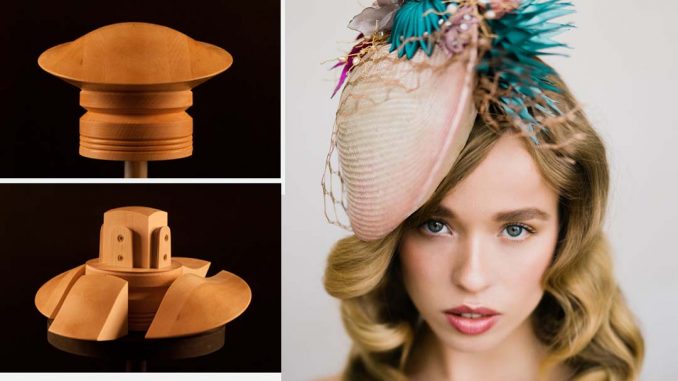 3D Percher Block – CB191F is the discounted(on offer) hat-block by How2hats for the month of May 2017.
Read the press release below.
Every month we offer a discount on one of our popular designs and this month it is the 3D puzzle block CB191F. This is a really stunning shape and we have received many wonderful comments about it. It's not hard to see why from the beautiful hat below by 
Ani Stafford-Townsend of Milliners' Guild in Bristol, who recently won a Creative Business Award.
More pictures of the hat at different angles and block are here.
How do I work with this type of block?
It is a saucer style block with a 215mm diameter, but because of the five-part nature, it produces a double-sided three-dimensional shape. The material is blocked right over and tied into the first small string groove at the base of the main shape. Then it is tied into the lower string groove which becomes the cut line.
After cutting, the head band ribbon can be sewn onto the head band (the flat above the lower groove) and then it is flipped inside on the first small groove. The base of the block with the grooves on is 122mm which will also be the diameter of the opening in the hat which sits on the head. So, it is a smaller perching hat rather than a head fitting one.
For the month of May, you can enjoy 15% off the price, making this puzzle block just £221.00 if you live inside the European Union or only £184.17 if you live elsewhere in the world.

To take us up on this great offer and send an email to catherine@hatblocks.co.uk and we can get yours on the workbench for you
Link: http://www.hatblocks.co.uk/block-of-the-month-may-2017/