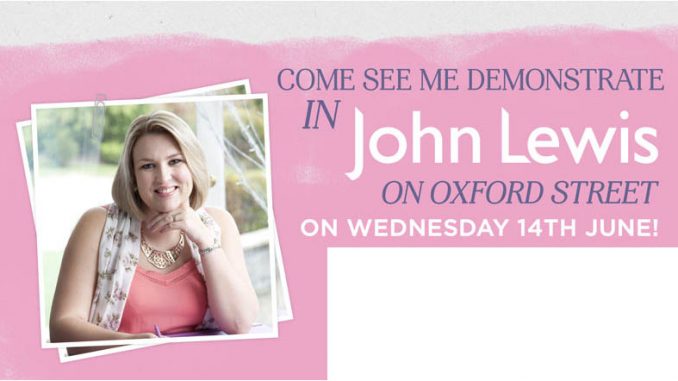 Sarah Davies of Crafter's Companion will be demonstrating the Ultimate board, Gemini and shabby chic products by Crafter's Companion at John Lewis store on Oxford Street, London on the 14th of June 2017 to celebrate John Lewis store stocking Crafter's Companion's products.
Read the press release below.
I'm so excited to let you know that Crafter's Companion is now part of the John Lewis product offering! To celebrate this amazing news we are running a full schedule of events, including me demonstrating at their flagship store on the famous Oxford Street in London on June 14th between 10am and 4pm – so save the date! I will be giving away a free gift for every customer, so don't miss out, click below to RSVP and download your free gift voucher today!
Here is where to find me.
I'll be located in The haberdashery department, Floor 4. John Lewis 300 Oxford Street, Marylebone, London W1C 1DX.
Parking is available at the Q-Park Oxford street(located just behind the shop in Cavendish square). John Lewis offer a 20% discount upon validation store.
Please Note: John Lewis Oxford Street lies within the congestion charge zone.
To RSVP and download the voucher, visit: https://www.crafterscompanion.co.uk/john-lewis-rsvp