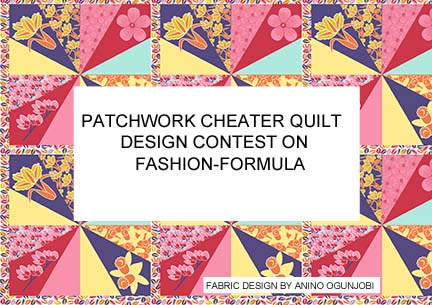 Fashion formula presents a creative patchwork cheater quilt design challenge.
Read the press release below.
Design Brief : Create a Patchwork Cheater Quilt

Instead of creating a patchwork from many pieces of fabric, a cheaters quilt is made from a patchwork of designs, arranged in often geometric shapes, giving the impression of a patchwork quilt. Quilters can then simply sew along the lines to create their own quilt from a wholecloth rather than cutting and piecing the items together.
The brief is to create patchwork designs ideally with each patch between 10-30 cm in size to enable the creation of a cheaters quilt. Different geometric designs are welcomed.

Upload your Patchwork Cheaters Quilt design and the most liked designs win some fabulous prizes.
1st Place Prize : 5 meters of Cotton Calico with your winning design
2nd & 3rd Place Prize : £15.00 voucher for Fashion Formula
4th & 5th Place Prize : £5.00 voucher for Fashion Formula
How to Submit a design :
1. Log in to Fashion Formula. If you do not have a username yet, set one up here.
2. Upload your design through our upload page and set the repeat and scale you want to use
3. Go to ' My Studio' and then 'My Designs', and click on 'Edit' on the design you want to enter
4. Scroll to the bottom of the page and on 'Add to weekly contest', select the contest you want to enter the design into and Save
Lastly promote your design with friends, family and your design community to help your likes and good luck!
Ending 22nd August 2017
Link: https://www.fashion-formula.com/weekly-contest