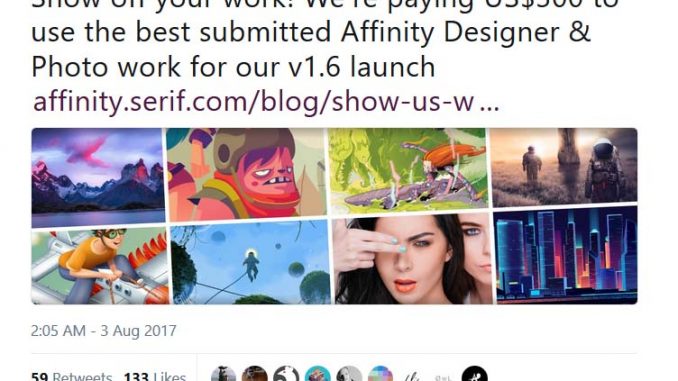 Affinity Photo and Designer are launching version 6 of their software with a show and tell competition to win Three hundred US Dollar($300).
Read the press release below.
We're almost ready to launch the version 1.6 updates of Affinity Photo and Designer – and we're asking for your help!
To support all the marketing we do – web pages, videos, social media posts or in-app samples – it's great to have photos and artwork which our users have created to show off the capability of our apps. So, we wanted to reach out to you to ask if you have any fantastic work you would be happy for us to use in this way. You'd be in great company – in the past we have used work from the likes of Romain Trystram, Ben the Illustrator, Paolo Limoncelli, Man-Tsun and Bang Photography to name a few.
In addition to forming part of the publicity campaign to promote the possibilities of our apps to new users, you'll receive a fee of US$300 to license each piece we use.
If you have created anything you think might be suitable, and as long as you are the copyright owner and hold all the rights to license the work to us, then please get in touch. You can send your photos or designs to consider to affinityart@serif.com.
A flattened PNG or JPG (or a link if you have a gallery on Behance, etc.) is fine at this stage, though if you're successful we'll ultimately need the full res image or Affinity file. Please keep your initial submission down to a maximum of five files but let us know if have more. The closing date for submissions is 25th August 2017.
If you have any questions then please don't hesitate to ask us on affinityart@serif.com.
We're really looking forward to checking out your work!
Link: https://affinity.serif.com/blog/show-us-what-youve-got/