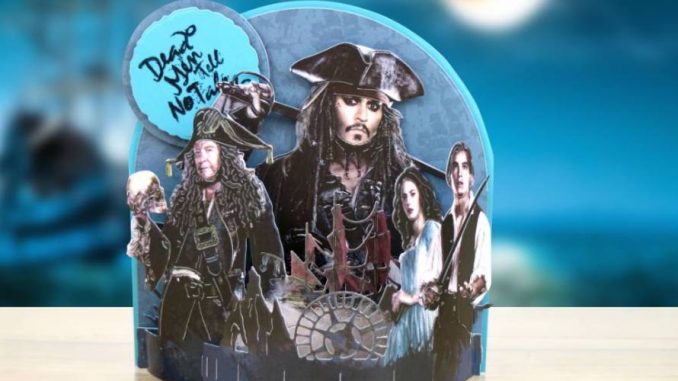 According to a post by Ideal Shopping Direct and the schedule on Create and Craft TV for 10th of August 2017, Disney's Pirate of the Carribean craft dies collection will be launching at 7pm BST(British Summer Time) on Thursday the 10th of August 2017.
Read the press release below.
Following the highly successful launches of Disney craft collections since June 2016 including Disney Frozen, Disney Beauty and the Beast, Disney Winnie-the-Pooh and Disney The Lion King, Create and Craft TV has once again teamed up with Character World for a new craft collection. Launching Thursday 10th August 2017, this latest range of Disney crafting products features the swashbuckling Disney characters from Pirates of the Caribbean : Salazar's Revenge.
This brand new craft collection includes designs featuring Captain Jack Sparrow himself, alongside his pirate friends and foes from Pirates of the Caribbean : Salazar's Revenge. This fifth instalment of the Pirates of the Caribbean franchise tells the story of a down–on-his-luck Captain Jack as he finds the winds of ill-fortune blowing even more strongly when a crew of deadly ghosts led by his old nemesis, the terrifying Captain Salazar, escape from the Devil's Triangle, determined to kill every pirate at sea… including him. Captain Jack's only hope of survival lies in seeking out the legendary Trident of Poseidon, a powerful artefact that bestows upon its possessor total control over the seas.
Craft dies of all the main characters feature in this brand new craft range, together with coordinating embellishment and sentiment dies and character and background scene pads. All of the dies from the range have been made using the most detailed die technology. The dies incorporate essential detail, to enable crafters to get the truest likeness to each Disney character possible through precision cutting. Using these alongside the coordinating paper pads and stamp sets enables both beginners and experienced crafters to create the same professional results.
Stephanie Weightman, Creative Director at Create and Craft said "Here at Create and Craft we are excited to introduce our first range of craft products inspired by the Pirates of the Caribbean franchise. The adventures of Captain Jack Sparrow, his comrades and adversaries in the mythological Pirates of the Caribbean world are loved by young and old and the designs in this collection are ideal for creating projects for all occasions. We are so happy to be giving our customers the opportunity to bring the Disney magic to life through their crafts."
Danny Schweiger, Joint Managing Director at Character World, said: "We're excited to be working with Disney and Create and Craft TV to manage the launch of this new range of licensed crafting products. We've worked hard to ensure the products and experience will be the same high quality that customers have come to know and love from ourselves and from Disney."
 Don't miss the World launch of the Pirates of the Caribbean: Salazar's Revenge craft collection, Thursday 10th August 2017 on Create and Craft TV (Sky 674, Freeview 23, Virgin 748 and Freesat 813). To see the full range of Disney products available on Create and Craft, visit: www.createandcraft.com/gb/disney
Watch Create and Craft TV on,
Link: http://www.idealshoppingdirect.co.uk/pirates_of_the_caribbean_disney_launch