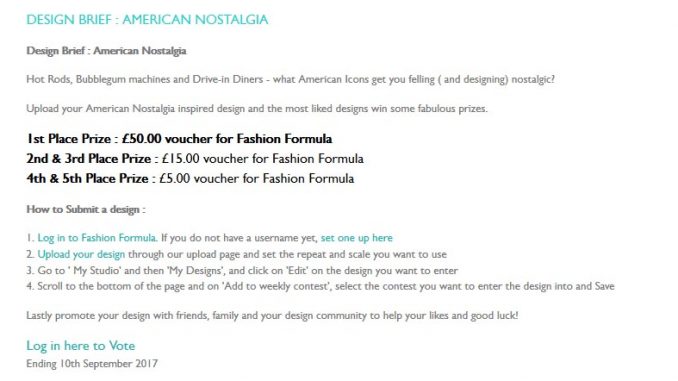 American Nostalgia theme is the new design contest by Fashion Formula.
Read the press release below.
Design Brief: American Nostalgia

Hot Rods, Bubblegum machines and Drive-in Diners – what American Icons get you feeling ( and designing) nostalgic?
Upload your American Nostalgia inspired design and the most liked designs win some fabulous prizes.
1st Place Prize: £50.00 voucher for Fashion Formula
2nd & 3rd Place Prize: £15.00 voucher for Fashion Formula
4th & 5th Place Prize: £5.00 voucher for Fashion Formula
How to Submit a design :
1. Log in to Fashion Formula. If you do not have a username yet, set one up here.
2. Upload your design through our upload page and set the repeat and scale you want to use.
3. Go to ' My Studio' and then 'My Designs', and click on 'Edit' on the design you want to enter.
4. Scroll to the bottom of the page and on 'Add to weekly contest', select the contest you want to enter the design into and Save.
Lastly promote your design with friends, family and your design community to help your likes and good luck!
Ending 10th September 2017
Link: https://www.fashion-formula.com/weekly-contest