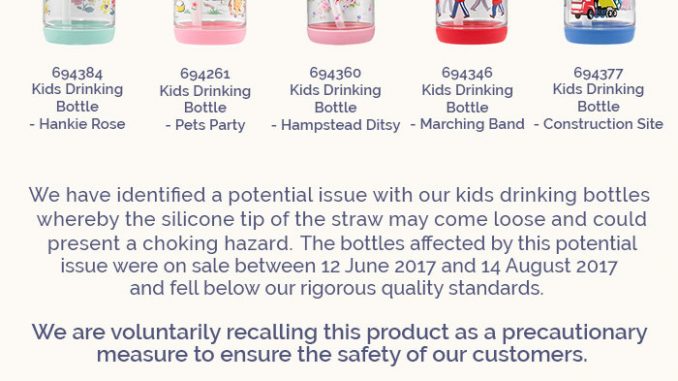 If you bought any Cath Kidston's Kids Drinking Water-Bottles between 12 of June 2017 to 14th of August 2017, please stop using it and contact Cath Kidston.
Read the press release.
We have identified a potential issue with our kids drinking bottles whereby the silicone tip of the straw may come loose and could present a choking hazard. The bottles affected by this potential issue were on sale between 12 June 2017 and 14 August 2017 and fell below our rigorous quality standards.
We are voluntarily recalling this product as a precautionary measure to ensure the safety of our customers.
WHAT YOU SHOULD DO
Customers who purchased this product during the specified time period, or received it as a gift, are asked to please stop using it immediately and return it to any Cath Kidston store for a full refund or contact customer services on 0333 320 2663 between 9.00am – 8.00pm Monday to Friday and Saturday/Sunday between 10am – 4pm, or email welovetolisten@cathkidston.com.
No other products or drinking bottles sold by Cath Kidston are affected by this notice. Please be assured that the safety and performance of our products is always our highest priority.
We apologise for any inconvenience caused.