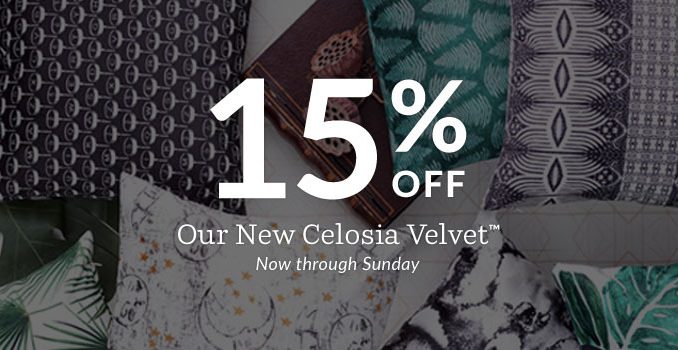 From 12 AM EDT Thursday, September 14th  to 11:59PM EDT  Sunday, September 17th 2017  Spoonflower is offering its customers  15% off its newly launched fabric Celosia VelvetTM fabric when they (customers) buy 1+ yards of Celosia Velvet fabric only.
Read the press release below.
This 15% off Celosia VelvetTM fabric offer is valid from 12:00 a.m. EDT Thursday, September 14 through 11:59 p.m. EDT Sunday, September 17, 2017.
Promo is valid on 1+ yards of Celosia Velvet fabric only.
Promo is not valid on test swatches, fat quarters, swatch samplers, sample packs or unprinted fabric.
Promo offer can be combined with 10% Everyday Designer Discount, but cannot be combined with any other promotional offers.
If your order qualifies for the Bulk Discount, you will receive the greater of the two discounts.
Promotional pricing doesn't affect commissions – during promotions, designers still receive up to 15% commission based on the original price point.
Offer is applied to your cart automatically. No code necessary.
This offer applies worldwide with exclusions.
Previous purchases are not eligible for adjustments.
15% off sitewide offers are applicable on Roostery.com (no code necessary) and SproutPatterns.com with
code SPROUT15.
If you have any issues with purchasing, please reach out to help@spoonflower.com.
About Celosia Velvet
Celosia Velvet™ is a heavyweight, 100% polyester fabric with a short pile and elegant shimmer. Printed on demand with rich and long-lasting color, Celosia Velvet™ is certain to add bespoke luxury to a variety of projects from apparel and accessories to interior accents. With a plush feel and durable construction that softens in the wash, it's the perfect choice for commercial or personal upholstery projects, drapery, and other home decor applications.
54″ wide printable area (137 cm)
10.9 oz per square yard
Non-optic white
Estimated shrinkage: 5-6% in length and 2-3% in width
Link: https://www.spoonflower.com/celosia-velvet-fabric
Link 2: https://try.spoonflower.com/promos/