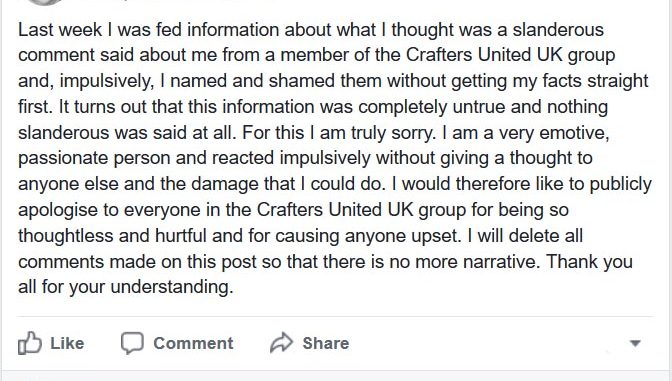 Lizzy Curtis posted on her Facebook wall, this apology(see screenshot) to Crafters United UK Facebook group after accusing them of slandering her.
If you missed the previous post, you can read about it here http://craftersengagement.com/2017/09/waves-anger-falling-crafters-united-uk-facebook-group-lizzy-curtis-posted-page-without-proof-verification-slandered-crafters-crafters-united-u/
From the screenshot.
Last week I was fed information about what I thought was a slanderous comment said about me from a member of the Crafters United UK group and, impulsively, I named and shamed them without getting my facts straight first. It turns out that this information was completely untrue and nothing slanderous was said at all. For this, I am truly sorry. I am a very emotive, passionate person and reacted impulsively without giving a thought to anyone else and the damage that I could do. I would, therefore, like to publicly apologise to everyone in the Crafters United UK group for being so thoughtless and hurtful and for causing anyone upset. I will delete all comments made on this post so that there is no more narrative. Thank you all for your understanding.