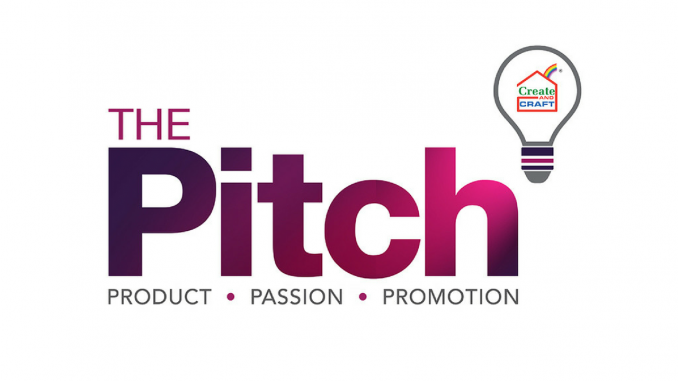 Create and Craft TV launch a program called "The Pitch"  to aid craft entrepreneur(s) in the entrepreneurial journey as they(Create and Craft TV) search for the next hit in the crafting community.
Read the press release below.
The Pitch: Could You Have the Next Big Craft Idea?
"The Pitch"
 is our global search for the next big thing to hit the
crafting
industry. Whether you have a fresh and innovative craft product idea, you own a small business start-up, you're an entrepreneur, or you already have a popular craft brand, we want to hear from you! We'll begin our worldwide search for the next
crafting
success story this autumn, launching our first interview stage on Saturday 11th November 2016 at
Crafting Live: Peterborough
.
The Pitch will be a Dragon's Den/Shark Tank-style craft event; we're inviting you to come along and pitch your business ideas to our expert panel. Sarah Hurley, Create & Craft Ambassador and The Pitch lead panellist, comments:
"We are so excited to be launching The Pitch this November, giving small businesses and crafting innovators the stepping stone they need to progress. Whether you have a brand new craft product idea, small business start-up, or are already an established brand, we are looking for you!"
How Could We Help You?
We have almost 15 years of specialism in the craft industry, and it's this experience and knowledge that we want to share with The Pitch hopefuls. Successful pitchers will go on to be enrolled in our ground-breaking incubator programme; we'll give you help, support, advice and mentoring through your first year of trading with us. Some of the most recognisable names and faces of crafting, from The Pitch panellist Sarah Hurley to Dreamees, found their fame through the help of Create & Craft. And subsequently, they each went on to build their brands globally.
If you're looking to gain expert feedback on your product ideas, receive mentoring from leaders in the craft industry, take your craft business to the next level, and have the potential for your product or brand to be showcased to a 70 million UK and USA TV audience, register online here: https://www.createandcraft.com/gb/the-pitch. Successful applicants will be contacted with further details on the time and location of their 'pitch'!
Link: blog.createandcraft.tv/the-pitch