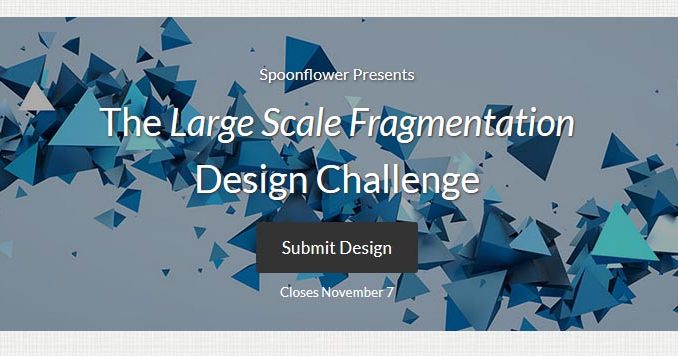 Large-scale fragmentation bedding design will be on Spoonflower as Spoonflower's designers are challenged to design a large-scale fragmentation design to celebrate the launch of Roostery's bedding and the closing date is at 3PM EST (Eastern Standard Time) 7th of November 2017.
Read the press release below.
This week's challenge will have you thinking larger than life! In celebration of Roostery's bedding launch, we're challenging you to create a large-scale fragmentation design that would be the perfect addition to your bedroom decor. From deconstructed pops of color to fragments of dispersed light, bring your artwork to life but remember to think big!
Large Scale Fragmentation Details
The deadline for entries is Tuesday, November 7, 2017 at 3 PM EST.
Designs will be previewed at 150 DPI in a one yard size on the voting ballot.
All designs will be eligible for public voting, and the popular vote determines the top 25 winning designs.
Public designs previously uploaded on Spoonflower.com are not eligible for this contest. Designs do not require printed proofing to enter the contest.
Moderation will take place at the close of the contest deadline.
See our blog page for even more Design Challenge details and a list of previous themes.
Timeline
10/13/2017: Submissions open
11/07/2017: Submissions close at 3pm EST
11/09/2017: Public voting opens
11/14/2017: Public voting ends at 3pm EST to determine top 25 entries
11/16/2017: Spoonflower will announce the winner
Prizes
1 first place winner will receive a $200 Spoonflower credit.
2nd place winner will receive a $100 Spoonflower credit.
3rd place winner will receive a $50 Spoonflower credit.
Remaining top 10 designs will receive a $20 Spoonflower credit. The top 25 popularly-voted designs from each theme will be automatically made available for sale in the Spoonflower Marketplace (provided they are a verified seller) where they will receive 10% commission on every sale — no $5 swatch required.
Link: https://www.spoonflower.com/contests/large-scale-fragmentation