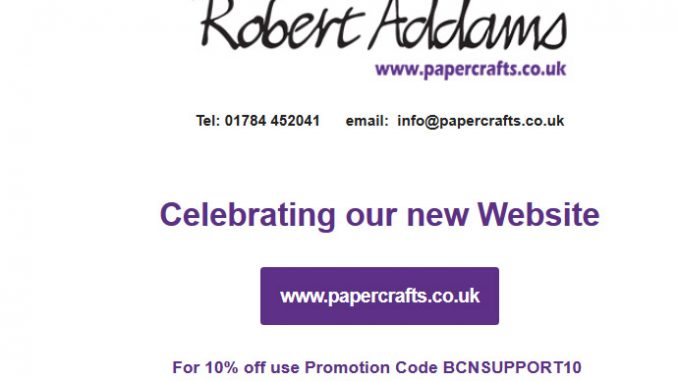 Robert Addams announces the launch of his new website.
Read the press release below.
You've supported us and the other founder members of the British Craft Network internet crafting channel when it was launched almost 3 years ago. Sadly BCN is no longer around, but I wanted to take this opportunity of updating you with my latest news. I'm really pleased to announce that my new website www.papercrafts.co.uk has now been launched. Thanks to months of hard work from Catherine and Stephen everything is now in categories so you'll be able to see exactly what you're looking for quickly and easily. 
Some crafters have discovered it already and have told us that you like the easy way to get around and find Products, Special Offers, Video Tutorials and the Gallery. Please have a look for yourself and if you'd like to test it out you can use Promotional Code – BCNSUPPORT10 – and we'll give you 10% off all orders, over £10.00, placed online until Monday 2nd October 2017, and still with FREE first class postage to the UK.
I've added some of my British Craft Network shows to my new website along with other craft videos for you to watch. Nowadays you can see me regularly on Hochanda TV – Sky 663, Freeview 85 and Freesat 817. My next scheduled shows are 8am and 12noon on Monday 1st November. 
I hope you're pleased that we've contacted you, if not, apologies, simply click unsubscribe at the end of this email and your details will be deleted and you won't receive any further news from us.
That's all for now.
Best wishes,
Robert Addams