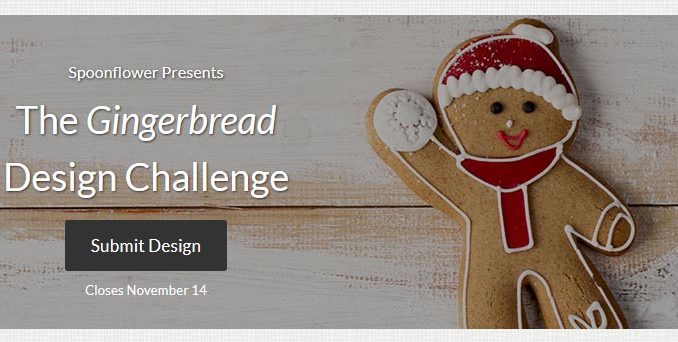 Spoonflower presents a Gingerbread design challenge and the deadline for submission at 3 pm EST(Eastern Standard Time) 14th of November 2017.
Read the press release below.
The smell of freshly baked gingerbread is just the sign we need to know it's officially the holiday season. Whether you're all about building your dream gingerbread house, creating the picture-perfect gingerbread family or enjoying time spent baking in the kitchen, this week's challenge will leave you craving a gumdrop nose!
Gingerbread Details
The deadline for entries is Tuesday, November 14, 2017 at 3 PM EST.
Designs will be previewed at 150 DPI in a fat quarter size (21" x 18") on the voting ballot.
All designs will be eligible for public voting, and the popular vote determines the top 25 winning designs.
Public designs previously uploaded on Spoonflower.com are not eligible for this contest. Designs do not require printed proofing to enter the contest.
Moderation will take place at the close of the contest deadline.
See our blog page for even more Design Challenge details and a list of previous themes.
Timeline
10/13/2017: Submissions open
11/14/2017: Submissions close at 3pm EST
11/16/2017: Public voting opens
11/28/2017: Public voting ends at 3pm EST to determine top 25 entries
11/30/2017: Spoonflower will announce the winner
Link: https://www.spoonflower.com/contests/gingerbread