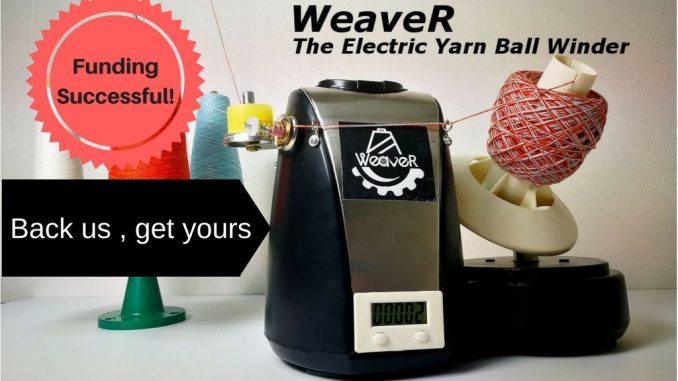 See the new WeaveR Electric yarn winder by Sunny Choi from Hong Kong Knitting on Kickstarter.
Read the press release below.
My dear customer:
I am Sunny Choi Thank you for supporting me over these years and it's my pleasure to serve you. 
I would like to share my new invention – WeaveR Electric Yarn Winder is now live on Kickstarter. This is a time saving electric yarn winder with adjustable speed mode/ Wax stand & tension adjustment/ Rotation Counter/ Table Clamp-free features. Very handy and high efficiency.
WeaveR Electric Yarn Winder is now on Kickstarter for US$ 99.

A video, detailed description, my story and much more on this Kickstarter Project Link  :
https://www.kickstarter.com/projects/296200484/weaver-electric-yarn-winder-that-improve-yarn-qual?ref=d2rnhe

The aim of  WeaveR
I spent most of the time finding a better parts and materials to ensure the safety and lower the cost. A high quality and reasonable price is what I aim for. WeaveR Electric Yarn Winder is now on Kickstarter for US$ 99.
How WeaveR benefit you?
For machine knitter, Yarn will become smoother and Anti-static when the yarn pass through our high-quality yarn wax stand on the WeaveR , the whole weaving process will become smooth. So now you have more time to plan your next knitting project.
Our first Crowdfunding project: WeaveR electric yarn winder has gone live
After a year of researching and developing. I am so excited to announce to you the way of better knitting – WeaveR electric yarn winder that improves yarn quality.