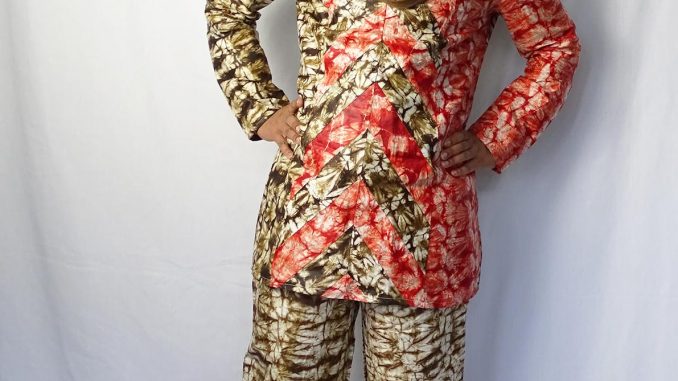 I don't quilt a lot but I do make clothes for myself from time to time. I have the Accuquilt's strip die which I decided to use in making the chevron on the front part of this shirt.
Materials needed
Sewing pattern- Newlook 6421.
Accuquilt Go strip die
A pair of Scissors
Accuquilt Go big die cutting machine or Accuquilt Go baby or Accuquilt Go!
Zip or Zipper
Sewing thread to coordinate fabric
Sewing pins
Sewing machine
Sewing machine feet- Zipper, ZigZag or Universal
Fabric: Two different fabric – I use the tie and dye fabric(made in Nigeria) popularly called Adire in Nigeria
Instructions
Step 1: Using the Accuquilt's strip fabric die, cut the strips out of the different coloured fabric. Sew the strips together as shown and then place the sewing pattern on the sewn strips at 45 degrees to the left( this creates the chevron for the first half\ side).
Repeat this process for the other side of the front by flipping the Sewing Pattern and letting it match the exact colours and angles(45 degrees to the right) of the first side.
Step 2: With the right side of both fabric facing join the center of the pattern on the wrong side of the fabric.
Step 3: Sew the other front-side pattern pieces to the chevron's front.
Step 4: Finish the shirt and trouser(pant) according to the instructions in the sewing pattern.