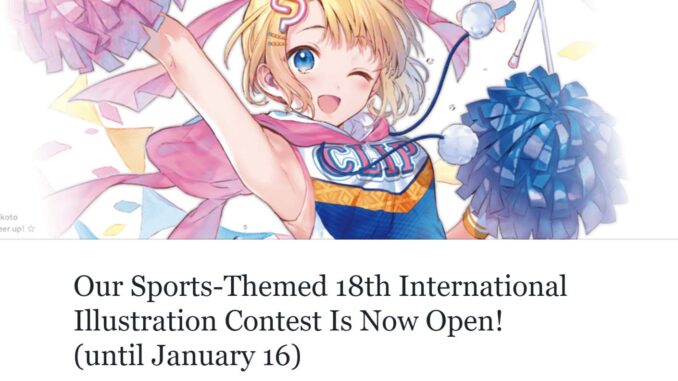 Clip Studio Paint declares Sports- Themed for its 18th International Illustration Contest and the closing date is January 16th 2019.
Read the press release below.
Our Sports-Themed 18th International Illustration Contest Is Now Open! (until January 16)
The theme of this contest is "sports"! We look forward to seeing your unique interpretations of the theme.
Submissions will appear in date order in the Facebook album after being checked by Celsys. The winners will be chosen by a judging panel.
Entries may take up to five days to show in the album, especially if submitted on a weekend or close to the deadline.
We cannot accept entries by Facebook message. Please follow the instructions below to submit your entry to the contest.
Submission Guidelines
● Theme: Sports
● Schedule Submission period: December 20 (Tue), 2018 to January 16 (Wed), 2019, 23:59 (JST) Result announcement: January 31 (Thu), 2019 (may change)
● Announcements and Prizes
Entries will be posted in order to the Facebook album.
The winning pieces will be judged on quality, thematic relevance, originality, and how many "likes" they have received.
You can also share your entry on Twitter or Instagram with the hashtag "
#cspcontest18
" to get more support. Retweets and likes will be taken into consideration during the judging process.
Grand prize: 200,000 JPY 2nd place: 50,000 JPY 3rd–5th place: Clip Studio Paint EX download version or 10,000 JPY 6th–10th place: Clip Studio Paint PRO download version or 5,000 GOLD
Honorable mentions: Honorable mentions can choose from one of the following: ・ 1,000 GOLD (worth US$10) to use on CLIP STUDIO services ・ US$10 discount coupon for Clip Studio Paint ・ Clip Studio Paint DEBUT download version
Note: GOLD is a point currency that can be used for CLIP STUDIO services.
● Conditions
– Submissions musts be original works (suitable for all ages) that the applicant holds copyright for.
– Submissions cannot be fanart or depict existing characters or products.
– Submissions may be created with any software