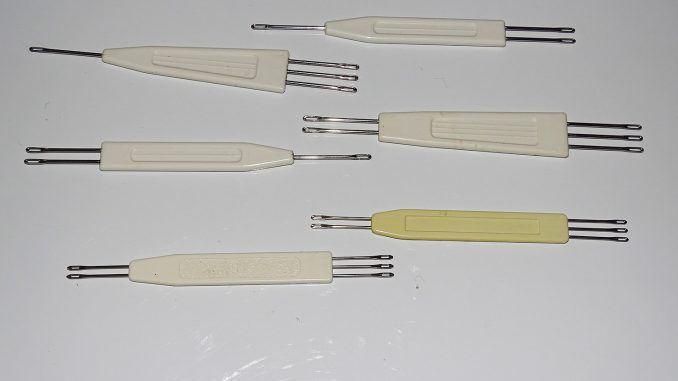 Our featured post from Crafters Dictionary is the transfer tool.
Definition: This is a tool with a prong or prongs on one end or both ends of the tool that is used in transferring stitches from one needle to another on a knitting machine.
Types of Knitting Machine Transfer Tool
There are different types of transfer tools.
1 by 3 transfer tool: The one-needle prong moves one stitch at a time while the three-needle prongs enable the transferring of three stitches at once.
1 by 2 transfer tool:
2 by 3 transfer tool:
7-needle transfer tool:
Uses of the Transfer tool
Moving stitches for cable knitting.
Transferring stitches when increasing or decreasing stitches, especially in shaping the arm-hole of a garment.
Transferring stitches for fully fashion increase or decrease.
Transferring stitches when casting off the stitches.
*If you have a Youtube video showing a technique, uses or tutorial of this product, please comment with the link to your tutorial and Crafters Dictionary will add the link to the post on its website.
Read more on; https://craftersdictionary.com/