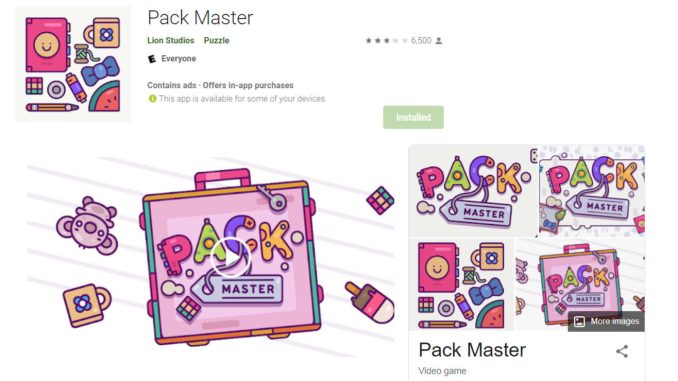 Learning to pack items to prevent them from colliding in an allocated space can be fun when it is a game and the dynamic difficulty adjustment increases at a progressing pace leaving the player entertained as well as educated.
So tonight on Crafters TV (CraftersTV) game night, it is time for the game "Pack Master".
The game Pack Master is available to download from the play store.
About the game
Can you pack it all in? Are you an expert packer? Only the smartest travellers can visit every country. Be the leader of the pack!
What is more refreshing than the feeling of a nice, perfectly organized suitcase? Relive that relaxing feeling over and over again as you get ready to travel with Pack Master. Your one simple challenge is to fill your suitcase with the myriad objects provided. All at once easy and increasingly frustrating.
We aren't just dealing with clothes here. Oh no. You'll have to cram much more than that into a minimal amount of space. We are talking shoes, plants, crowns, snorkels; wait, is that a bowling ball?? So, yes, basically anything your brain could think of.
Travel around the world to international cities and solve special puzzles created specifically for each of them. The organization is key since your suitcases are not the boring rectangles you are used to. We will strain the limits of your imagination as you try to fit the pieces into cases of all shapes and sizes.
Hundreds of levels of cramming craziness
Fill your passport with stamps from around the world
11 exotic locales with unique, fun objects
Perfect for the plane. No Wifi required!
Travel smarter and pack cleaner. Pack Master will help organize your brain as you organize your suitcase.