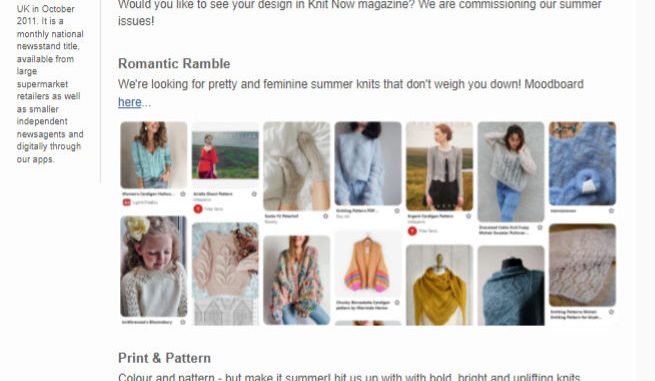 Knit Now magazine is making a design submission call to knitwear designers and the deadline for submission is 21st January 2022
Read the press release
Knit Now Call for Submissions
Call for Submissions! Summer 2022
Calling all designers! We've just put up a call for submissions on our website here.
Would you like to see your design in Knit Now magazine? We are commissioning our summer issues!

 Romantic Ramble-
We're looking for pretty and feminine summer knits that don't weigh you down! Moodboard here…
Natural Delights
Celebrate stylish knits in your favourite natural fibres – from linen and cotton to wool, mohair and alpaca.
Full details for each theme can be found here.
Deadline: Friday 21st January
Please send your submissions to me by email: joanna.cummings@practicalpublishing.co.uk – can't wait to see what you come up with!
Kind regards,
Joanna
*Knit Now is a fresh and stylish knitting magazine which launched in the UK in October 2011. It is a monthly national newsstand title, available from large supermarket retailers as well as smaller independent newsagents and digitally through our apps. 
Link: https://craftworld.com/cms/call-for-submissions-knit-now-summer-2022/