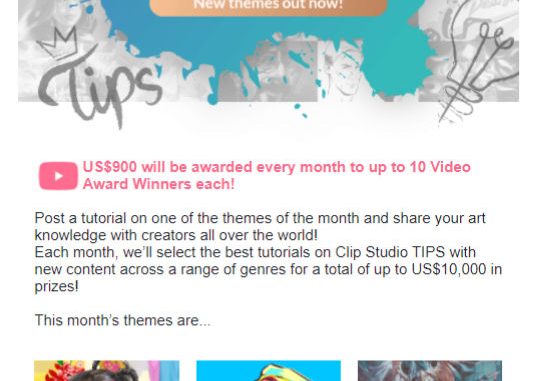 Clip Studio Paint January 2022 Tutorial Themes is out!
Read the press release
This month's themes
Entry period- Jan 6–31, 10:00 JST/01:00 UTC
Theme 1
How to Draw Hair#DrawingHair
Realistic, comic-book, or anime-style? How hair is rendered differs from artwork to artwork. Brushes from Clip Studio Assets can also offer a quick and easy way to render hair with character and depth. Please show us how you recommend drawing hair using Clip Studio Paint.
Theme 2
Using the Liquify Tool#UsingLiquify
The Liquify Tool, recently added in Clip Studio Paint Ver. 1.11.6, can be used in a variety of ways to transform, correct, and create visual effects. From basic usage to newly discovered techniques, please show us how you use the Liquify Tool.
Theme 3
Combat Characters#CombatCharacters
Combat characters are essential for games and animation. What kind of original characters will you create? Please introduce in detail your process from brainstorming to concept to creation using Clip Studio Paint.
Link: https://www.clipstudio.net/content/tips/en/