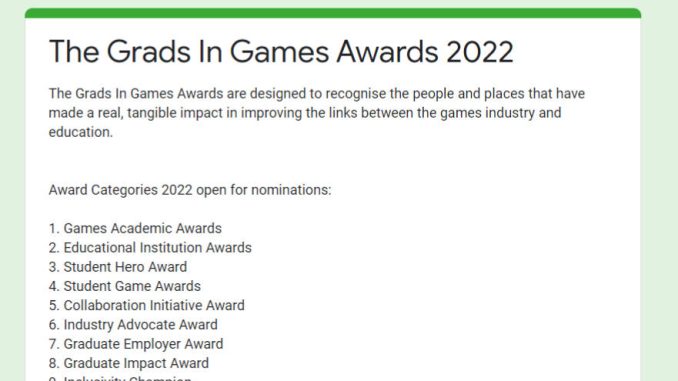 Grads In Games Awards for 2022 has commenced and the entry period is 1st January 2022 to 6th March 2022.
Read the press release
Recognising the efforts made to ensure a sustainable games industry, The Grads in Games Awards are back for 2022!
This is an amazing chance to nominate your friends, co-workers and your teachers who have gone above and beyond in the past year + Give them the recognition they deserve!
Designed to recognise the work of universities, colleges, academics, students and studios in improving and encouraging graduate employment in the games industry; the Grads in Games Awards are the first of their kind.
Every year we work with thousands of students who are looking to break into the games sector, as well as hundreds of tutors, lecturers and academics, plus games studios from across the UK and Europe. We want to recognise all of those taking an active role in the education of future talent and in supporting the next generation of game developers.
From studios with industry-leading graduate recruitment strategies, to educators going the extra mile to nurture creative flair at an early stage, we want to make sure these efforts do not go unnoticed.
The 2022 awards cover the following categories:
Academic Award
Educational Institution Award
Collaboration Initiative
Industry Advocate Award
Graduate Employer Award
Graduate Impact Award
Inclusivity Champion
Student Hero Award
Outstanding Technical Project
Student Game Award
Full details of each of these awards and eligibility requirements are available on the Grads In Games Awards page, along with your chance to nominate in each category.
Entry & Eligibility details
Eligibility period for the 2022 awards is 1st January 2021 to 1st January 2022 unless stated otherwise.
You may enter multiple nominations for a single category, as long as they are for different nominees. You may enter nominations for multiple categories.
Nominations for the 2022 awards will close at midnight on the 6th March 2022.
2022 shortlists & awards reveal will take place across March and April 2022.
Harry Stainer
Marketing and Operations Assistant
Grads in Games
Here is the link to nominate: https://gradsingames.com/awards/