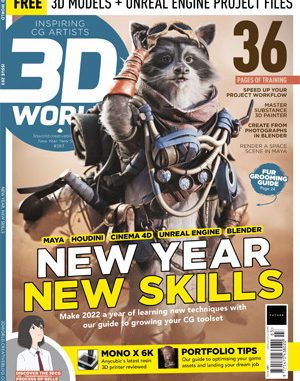 March 2022 issue of the 3D World magazine is out.
Read the press release
It's the time of year when many of us take stock, mulling over the opportunities for self-improvement.
We will ignore turning to vegetarianism or joining the gym (again) for now, to instead look at broadening our CG horizons. This issue we take a good look at some of the main 3D applications out there, to see if it is time to upskill, adding new tools to our workflows and learning some new techniques to enable us to become better and more efficient artists.
So, no matter which software you currently use, take a look at our guide on page 22, to see what else is on offer and if it looks like it could be a valuable addition to your current arsenal.
On top of that we help you make the most of your skills with a range of expert tutorials. We also take a good look at how to successfully promote yourself via your portfolio.
As always our Q&A panel solve your CG woes, including how to create beaches in Blender and how to know if you are making models good enough to sell.
Top this off with our regular industry and community news pieces and an inspirational gallery of the latest renders from across the globe, including some more in-depth tech focus articles.
Finally, I'm always on the lookout for the best CG art. If you ever want to have your work appear in 3D World, drop me an email at rob.redman@futurenet.com.
We hope to welcome you back soon.
Rob Redman
Editor, 3D World