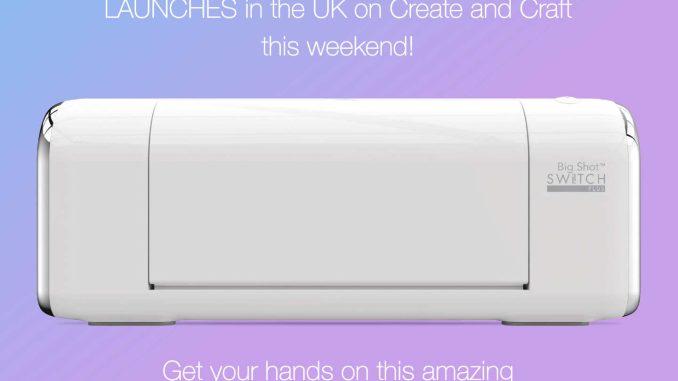 According to Sizzix, it is launching its electronic die-cutting machine called the "Big shot Switch Plus" this weekend on Create and Craft TV.
Read the press release
Get your hands on this amazing NEW machine before anyone else, on Create and Craft TV this weekend! Not only will you be one of the first to get your hands on this fantastic Machine, you will also receive a collection of Sizzix Surfacez & Essentials absolutely FREE! This UK pre-sale deal won't be around for long, so make sure you don't miss it!
Join our fabulous Designers Pete Hughes and Sharon Curtis as they present our BRAND-NEW Sizzix Big Shot Switch Plus, electric die-cutting machine and Starter Kit. This unique, elegant, and compact machine features a smooth automated feed and includes a one touch reverse element, allowing for a high-quality finish and effortless die-cutting every time!
Here's just a few of the features and benefits…
*One-touch reverse switch
*Exclusive Starter Kit Included
*Integrated Storage
*Sleek Design With Carry Handles
Perfect for beginners and experts alike this starter kit comes with 24 beautifully detailed and timeless Thinlits® dies, 1 3-D Textured Impressions® Embossing Folder as well as essential cutting pads and platform highlighting clear and simple step-by-step instructions for ease of use.
Scan the QR code on your platform for instant instructions and information.