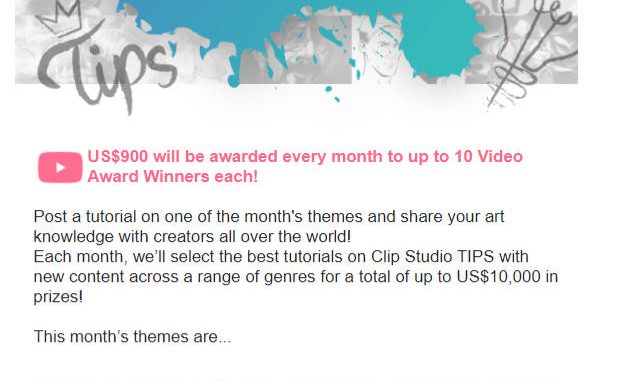 Clip Studio Paint has announced its tutorial themes for February 2022.
Read the press release
Entry period
This month's themes
Feb 1 (Tue) – Feb 28 (Mon) 01:00 (UTC)
Post a tutorial on one of the month's themes and share your art knowledge with creators all over the world!
Each month, we'll select the best tutorials on Clip Studio TIPS with new content across a range of genres for a total of up to US$10,000 in prizes!
This month's themes are…
Theme 1
How to draw water#DrawingWater
One of the most difficult things to get right in art is water. Show us how you get achieve that perfect transparency, how to draw waves and currents and all the different forms that water can take in Clip Studio Paint!
Theme 2
Using screentones#UsingScreentones
Screentones, using dots to represent shading, are often used in black-and-white comics, but can also be used in full-color illustrations and designs. Show us how you create and work with screentones in Clip Studio Paint.
Theme 3
Animation for beginners#AnimationForBeginners
Let's create a simple animation, where a part of an illustration moves or flickers, using Clip Studio Paint's animation features! Let's think of easy tips so that even total beginners to animation can follow along.
Link: https://www.clipstudio.net/content/tips/en/