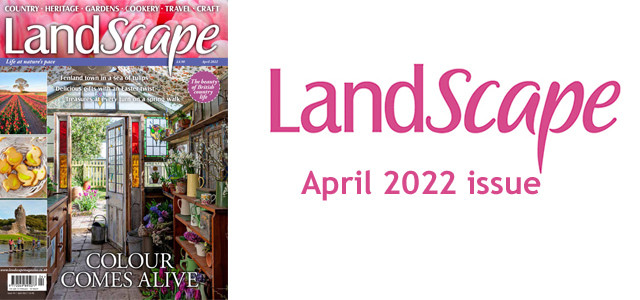 April 2022 issue of the Landscape Magazine is out.
Read the press release
Your April 2022 issue of LandScape is on the way and in the meantime, here are some of the highlights to look forward to…
In the April issue of LandScape…
THE COLLECTOR'S GARDEN
On a windy Cornish peninsula, a riot of spring colour bursts from raised beds at characterful Seaview Cottage, where flowers abound both indoors and out.
EASTER TREATS MADE FOR GIVING
Delicious to eat and charmingly presented, this range of sweet recipes make delightful presents for friends and family, each with a personal touch.
RAINBOW FIELDS UNDER FENLAND SKIES
Around the rural Lincolnshire town of Spalding, with its rich heritage of growing and celebrating tulips, carpets of vibrant colour erupt at springtime.*
LACY TREASURES FROM RUGGED SHORES
Two friends comb the rocky beaches of Cornwall and Dorset in their search for the perfect seaweed to press in their natural artworks.
GENTLE GIANT WITH A HEART OF GOLD
Full of life and energy, with a friendly and protective nature, the Old English sheepdog is a lovable companion bound to make a big impression.
*Please note that in light of the current situation, restrictions may be in place, so please check before travelling.
We hope you enjoy the issue,
LandScape editorial team.
If you subscribe to the digital edition, your issue will be in the app and available to download on Wednesday 23rd February 2022.