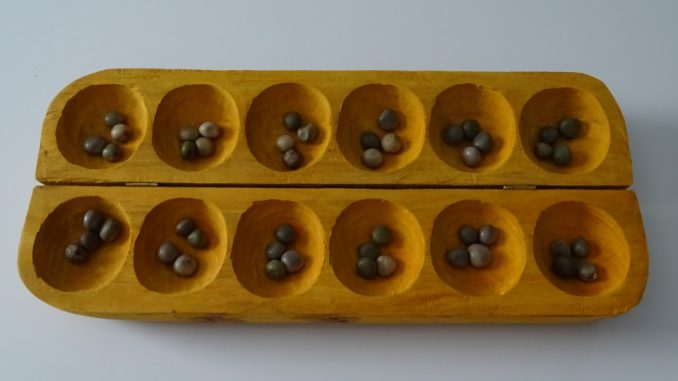 We have decided to change the title of our game from "30 Days With Games" to 100 Days with Games.
Our featured game is the "African Board Game- Ayo or Oko".
The goal of this game is to win your opponents sections which are known as houses.
The game is played between two people or two groups. Six houses on the horizontal belong to a player while the opposite six houses belong to the opponent.
To start, the player has to take all the seeds (4 in number) from one of his/her houses and share them( the player drops one seed in a house) until there is no seed on his/her hand. If the last seed on the player's hand ends in a house with seeds, the player packs those seeds including the last seed on his/her hand and continue sharing the seeds until the last seed on the player's hand ends in a house without seeds when this happens, it is the opponent's turn.
A player wins his/her seeds when a house contains four seeds. If there were three seeds in a house and the player or his/her opponent's last seed ends in that house with three seeds and the last seed in the player's or opponent's hand completes the seeds to make it four, then the seed beings to whoever completed it with his/her last seed if not, it belongs to the owner of the house.
*I did a video about it but will see if I can find and upload it.