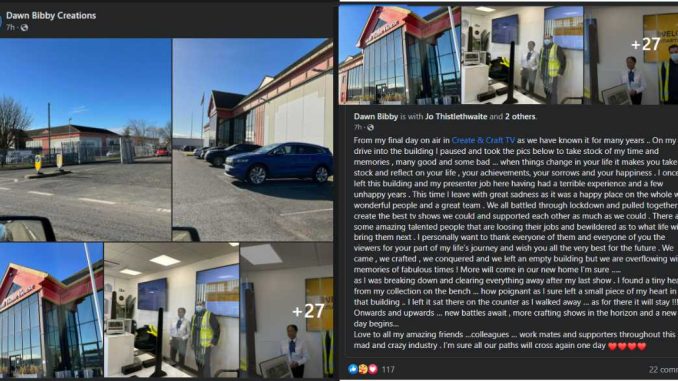 It is a known news and also a trending news in the craft sector of the creative industry that The Craft Store (Hochanda Global) has acquired Create and Craft TV. The official merger will be on 25th February 2022.
Dawn Bibby has just taken us through her memory lane with Create and Craf TV.
From the screenshot of her post on her Facebook page.
From my final day on air in Create & Craft TV as we have known it for many years .. On my drive into the building I paused and took the pics below to take stock of my time and memories , many good and some bad … when things change in your life it makes you take stock and reflect on your life , your achievements, your sorrows and your happiness .
I once left this building and my presenter job here having had a terrible experience and a few unhappy years .
This time I leave with great sadness as it was a happy place on the whole with wonderful people and a great team .
We all battled through lockdown and pulled together to create the best tv shows we could and supported each other as much as we could .
There are some amazing talented people that are loosing their jobs and bewildered as to what life will bring them next . I personally want to thank everyone of them and everyone of you the viewers for your part of my life's journey and wish you all the very best for the future .
We came , we crafted , we conquered and we left an empty building but we are overflowing with memories of fabulous times !
More will come in our new home I'm sure ….. as I was breaking down and clearing everything away after my last show . I found a tiny heart from my collection on the bench … how poignant as I sure left a small piece of my heart in that building .. I left it sat there on the counter as I walked away … as for there it will stay !!!
Onwards and upwards … new battles await , more crafting shows in the horizon and a new day begins… Love to all my amazing friends …colleagues … work mates and supporters throughout this mad and crazy industry .
I'm sure all our paths will cross again one day