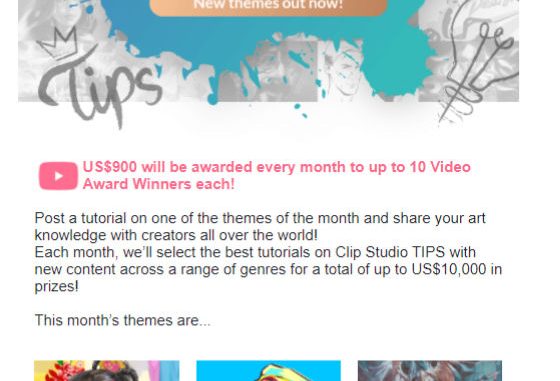 Clip Studio Paint has announced its tutorial themes for March 2022.
Read the press release
This month's themes
Entry period
March 1 – 31, 01:00 UTC
Theme 1
Drawing Flowers#DrawingFlowers
The mood of pieces featuring flowers can change significantly depending on the types of flowers drawn and how they are presented. Show us how you draw flowers and create showstopping bouquets in Clip Studio Paint!
Theme 2
Handy Uses for the Fill Tool#FillToolTips
Clip Studio Paint's Fill tool is indispensable when you want to fill an enclosed area with a splash of color or when creating sharp shadows common in anime-style shading. Let us in on your secrets for effective use of this handy tool!
Theme 3
Brush Techniques for Concept Art#ConceptArtBrushes
There are many brush techniques unique to concept artists that can quickly create a sense of atmosphere without going into excruciating detail. We would love to know what settings you use and how you create that fantastic painterly feel in Clip Studio Paint!
Link: https://www.clipstudio.net/content/tips/en/