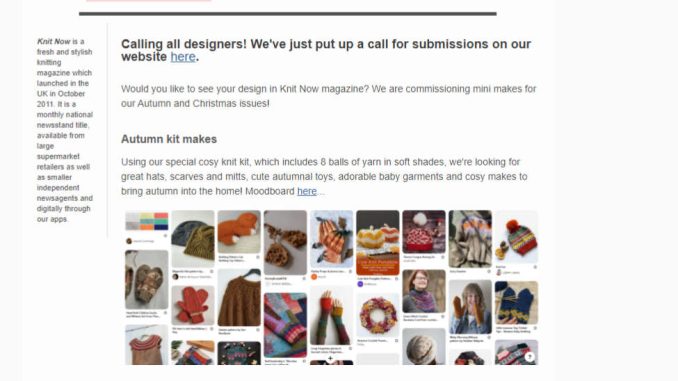 Knit Now makes a design submission call for kit makes for its Autumn/Christmas 2022 magazine.
Read the press release
Call for kit makes: Autumn/Christmas 2022
Calling all designers! We've just put up a call for submissions on our website here.
Would you like to see your design in Knit Now magazine? We are commissioning mini makes for our Autumn and Christmas issues!
Autumn kit makes
Using our special cosy knit kit, which includes 8 balls of yarn in soft shades, we're looking for great hats, scarves and mitts, cute autumnal toys, adorable baby garments and cosy makes to bring autumn into the home! Moodboard here...
Christmas kit makes
8 balls of yarn, endless possibilities! We're looking for Christmassy toys, cosy baby makes, festive accessories, home decor, stocking filler ideas…anything as long as it can be knitted in 8 balls of 4-ply yarn! Moodboard here.
Deadline: 9am, Wednesday 13th April
Please send your submissions to me by email: joanna.cummings@practicalpublishing.co.uk – can't wait to see what you come up with!
Kind regards,
Joanna
Link: https://craftworld.com/cms/knit-now-commissioning-autumn-christmas-kit-makes-2022/