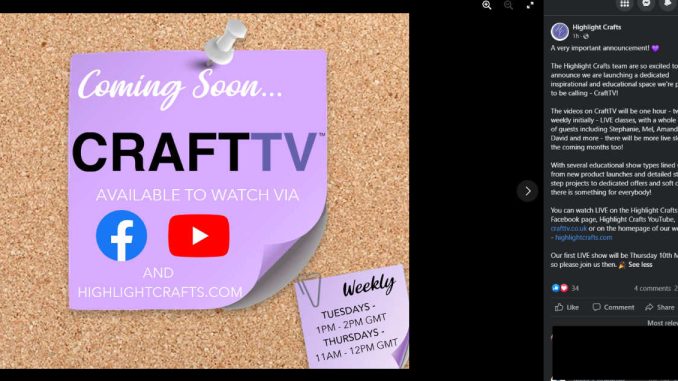 Highlight Crafts has just announced its new channel called CRAFTTV on its Facebook page…
From the screenshot
A very important announcement!
The Highlight Crafts team are so excited to announce we are launching a dedicated inspirational and educational space we're proud to be calling – CraftTV!
The videos on CraftTV will be one hour – twice-weekly initially – LIVE classes, with a whole host of guests including Stephanie, Mel, Amanda, David and more – there will be more live slots in the coming months too!
With several educational show types lined up, from new product launches and detailed step-by-step projects to dedicated offers and soft craft – there is something for everybody!
You can watch LIVE on the Highlight Crafts Facebook page, Highlight Crafts YouTube, crafttv.co.uk or on the homepage of our website – highlightcrafts.com
Our first LIVE show will be Thursday 10th March, so please join us then.