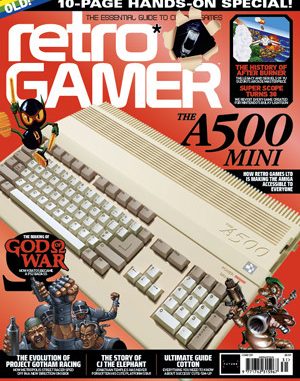 Retro Gamer issue 231 is out!
Read the press release
We get our hands on two fantastic new systems – The A500 Mini and Taito's Egret II Mini. Chris Smith and Darren Melbourne talk about the trials and tribulations of making a modernised version of the Amiga 500 to Nick, while Darran tests Taito's exciting new 40-game mini arcade system.
Other great articles to look forward to in issue 231 include the history of Sega's After Burner series, where we chat to the devs crafted with converting it to various home systems of the time and the story of CJ The Elephant, a popular budget series from Codemasters that came to life after an arcade conversion for the C64 was cancelled.
There's plenty more exciting articles to read, including an interview with Tim Schafer about Double Fine Productions, how David Jaffe overcame numerous obstacles to release God Of War on the PS2 and what happened when Microsoft asked Martyn Chudley to create a sequel to Metropolis Street Racer.

Issue 231 also sees us celebrating 30 years of the Super Scope, discovering how Sir Lancelot was made and why you should investigate Cotton: Fantastic Night Dreams, which is currently enjoying a resurgence after first appearing three decades ago in Japanese arcades.

We've also get excellent mini features that look at Sabre Wulf, NES Controller, Robocop, David Lubar, Alien Soldier, Kirby: Power Paintbrush, Sakura Wars: So Long, My Love and so much more

Take advantage of our great subs offer by signing up here. Stay safe!

Darran Jones
Editor, Retro Gamer