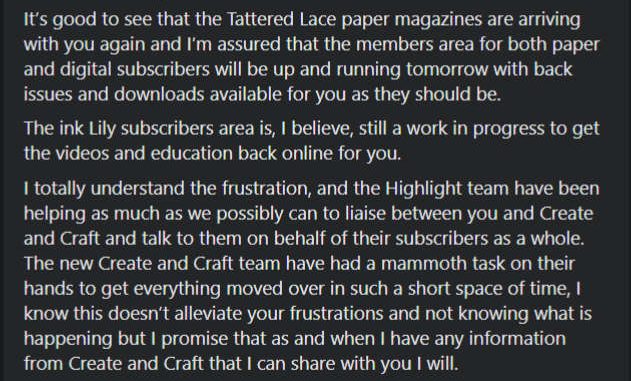 Many Tattered Lace subscribers are angry due to not being able to log in to their account and view their subscription, especially the digital version of the magazine. Since no word of promise or update or information is forthcoming, the level of frustration has increased.
However, Stephanie Weightman who was affiliated with the Tattered Lace brand before she branched out to her business Highlight Crafts, has issued a statement on her Facebook page.
From the screenshot
Hi everyone. I know there has been a lot of frustration surrounding your subscriptions that were purchased from Create and Craft before the recent changes. It's good to see that the Tattered Lace paper magazines are arriving with you again and I'm assured that the members area for both paper and digital subscribers will be up and running tomorrow with back issues and downloads available for you as they should be.
The ink Lily subscribers area is, I believe, still a work in progress to get the videos and education back online for you. I totally understand the frustration, and the Highlight team have been helping as much as we possibly can to liaise between you and Create and Craft and talk to them on behalf of their subscribers as a whole.
The new Create and Craft team have had a mammoth task on their hands to get everything moved over in such a short space of time, I know this doesn't alleviate your frustrations and not knowing what is happening but I promise that as and when I have any information from Create and Craft that I can share with you I will.
Please continue to get in touch if I can help in any way while the rest of the transition between channels continues and the team and I will do what we can to get your queries to the people we know are as keen to help you resolve them as we are xxx