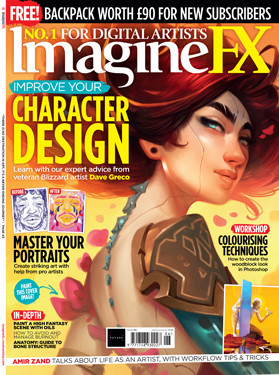 Read the press release
This month we cover a lot of ground. Although we have features and workshops on a number of areas, we also focus on character design, with advice on the key techniques used for recreating our superb cover art from Dave Greco, starting on page 54 and the latest installment of Charlie pickards in-depth series on painting human anatomy, this time looking at bone structure.
Amir Zand is an artist who crosses genres and techniques. I interviewed him about his life as an artist, and his tools and workflows to discover what makes him tick and how he creates his stunning art. Check out the interview on page36.
Tom Foster was going to be in our 2000AD issue but couldn't make it. We just had to have him in the magazine though, so in this issue he demonstrates how you could create a stunning Japanese city scape in the style of woodblock art.

As always we showcase the best new art from around the globe, as well as review the latest tools to help you decide where to spend your money.

Top this off with our regular industry and community news pieces and an inspirational gallery of the latest art from across the globe.

Finally, I'm always on the lookout for the best digital art. If you ever want to have your work appear in ImagineFX, drop me an email at

Keep in touch with ImagineFX Magazine by emailing us at mail@imaginefx.com or via our Twitter (@imaginefx) or Facebook pages.

Enjoy your ImagineFX Magazine!

Rob Redman
Editor, ImagineFX Magazine