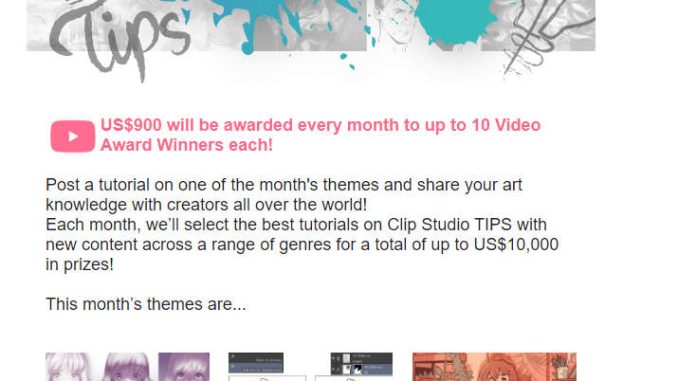 April 2022 tutorial themes by Clip Studio Paint are out.
Read the press release
Post a tutorial on one of the month's themes and share your art knowledge with creators all over the world!
Each month, we'll select the best tutorials on Clip Studio TIPS with new content across a range of genres for a total of up to US$10,000 in prizes!
This month's themes are…
Entry period
April 1 – 30, 1:00AM UTC (10:00AM JST)
Theme 1
Light Expression & Techniques#ExpressLight
Show us how you express the essential element of light in your artwork with Clip Studio Paint. For example, you could explain the effects depending on the direction and color of the light source or specific techniques you use to finish your work.
Theme 2
Using Reference Layers#ReferenceLayers
In order to draw effectively with Clip Studio Paint, it is important to master Reference layers. Show us how you use them in your creative process!
Theme 3
Lo-Fi Art#Lo-Fi
Lo-Fi art gives a sentimental nostalgic feeling, thanks to that retro 80's and 90's vibe. Use Clip Studio Paint and show us tips on color palettes and drawing techniques that help create this special mood.
Link: https://www.clipstudio.net/content/tips/en/