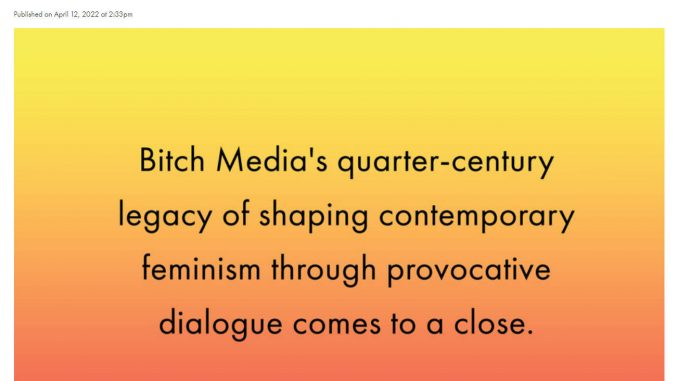 Bitch magazine is closing down.
Read the press release
Bitch Media has been an independent-media presence like no other. Since 1996, we have provided nuanced, thoughtful, and resonant media criticism and have never wavered from our original mission to look at popular culture through a feminist lens—and encourage others to do the same. Over the past 25 years, Bitch's magazine, website, podcasts, writing fellowships, campus programming, and more have helped to shape a media and pop-culture landscape where feminist perspectives are embraced, rather than sidelined.
Recent years have brought a multitude of challenges to our organization, and despite incredible effort, we have concluded that we are unable to sustainably continue creating the quality content that our readers and supporters expect. It is with very heavy hearts that we tell you that Bitch Media will cease all operations in June, 2022. Current subscribers and Rage members have been notified as to cancellations and the process for receiving any prorated refunds. BitchMedia.org will remain active for the foreseeable future to serve as an archive.
We feel incredibly lucky to have turned what was once a stapled-together zine into a media organization that published a talented and diverse slate of new voices and inspired an incredible amount of loyalty from people who became not just readers but stakeholders in our work. And we are proud to leave a quarter-century legacy as a fresh, revitalizing voice in both contemporary feminism and independent publishing. We will miss all those who accompanied us on this journey. Thank you for everything.
Link: https://www.bitchmedia.org/article/were-saying-goodbye