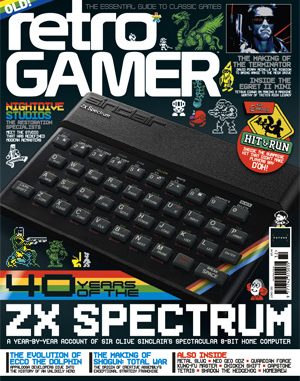 Issue 232 of the Retro Gamer Magazine is out.
Read the press release
Missed the last few issues of Retro Gamer? Why not resubscribe from today?
The ZX Spectrum changed UK gaming forever when it arrived in 1982, so we've decided to look at every critical year of the machine's existence and interview the likes of Kim Justice, Mev Dinc and James O'Brien, who all fell in love with the 8-bit micro.
This month also sees us interview Taito's Tetsuo Egawa about the Egret II Mini, a fascinating mini console that's not only crammed with 40 amazing games, but celebrates Taito's rich arcade legacy. Find out how it was made, the difficulties the team faced with emulation and just what is in store for that SD card slot…
Other highlights of issue 232 include David Perry on coding The Terminator for the Mega Drive, Creative Assembly revealing the origins of Shogun: Total War and how Radical Entertainment made The Simpsons cool with the excellent Hit & Run.
We also go behind the scenes of Capstone, a PC publisher that specialised in first-person shooters, speak to Nightdive Studios about remastering classic games like Doom 64, System Shock 2 and PowerSlave Exhumed and find out how Ed Annunziata and his team at Appaloosa Interactive created the Ecco The Dolphin games for Sega.
We've plenty of great miniature features too that look at the likes of Kung-Fu Master, Capcom Vs SNK: The Match Of The Millennium, The A500 Mini, Guardian Force, Propeller Arena, Metal Slug, Chicken Shift, Tetris and the Neo Geo CDZ
Take advantage of our great subs offer by signing up here. Stay safe!
Darran Jones
Editor, Retro Gamer