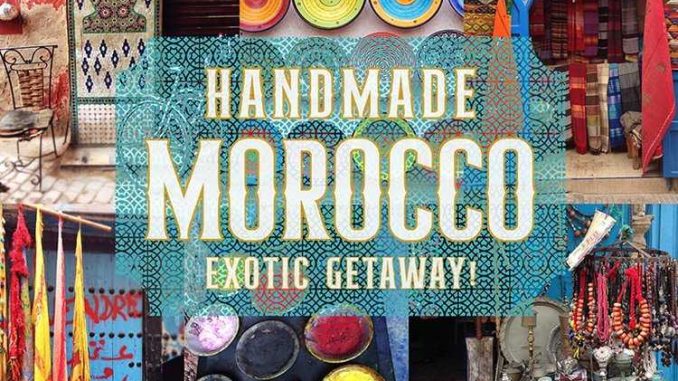 Read the press release
Registration for Our Moroccan Getaway Opens Soon!
Hello Friends!
I am SO excited to connect with you about Morocco!! We are all ready to travel and explore after these two difficult years navigating the pandemic. I just returned from India and had my expectations exceeded as far as my comfort level with going abroad. Yes, we have a few more simple "layers" to deal with, but it's actually easy, and very do-able. Over this last year we've stayed in close contact with our friends in Morocco at the Peacock Pavilions and they have successfully hosted many retreats over the last several months. They too are reporting a lot of travel ease with their guests and are very well versed in all the steps necessary to arrive and depart from Marrakesh. So WE ARE READY!!
I want to thank everyone who has stayed in touch, we appreciate your passion and interest for traveling with us and are so grateful that we can now offer this beautiful experience. There is nothing like communing with kindred spirits in an ancient, magical place. I feel very blessed to get to share my love of Morocco with you.
Please scroll down through this newsletter to capture the details you'll need to learn more about our retreat.
THANK YOU for being here!
XO Amy
HERE ARE THE JUICY DETAILS FOR
HANDMADE MOROCCO

Each week will be filled with creative workshops mixed with day trips that take us to fascinating, colorful locals! We'll scour the souks, visit historic sites in Marrakesh, and have a full day in the beautiful seaside village of Essaouria. Our home base is the gorgeous Peacock Pavilions. Many of our meals and events will take place at the Pavilions including our creative workshop sessions. You are in for a treat!
WEEK 1
10/22 – 10/29 2022
Amy and David Butler
For our first week, Dave and I team up to lead you through several creative experiences that take your inspiration form this exotic local and personally translate it into storytelling collages and gorgeous handmade journals. As a artistic couple we have lots of stories of our own to share including our journey together creatively and spiritually. Dave's energy is contagious! I can say that objectively as one if his biggest admirers. His personal collage work is multi dimensional and takes you on your own unique journey with each piece. To learn more about Dave and to see his incredible body of work, please visit here.
WEEK 2
10/31 – 11/7 2022
Amy and Denyse Schmidt
For our second week, I collaborate with Denyse to bring you an experience of seeing and creating textile inspired projects. Morocco is a place rooted in magic, color and texture, it's the perfect backdrop for exploring what moves you! Denyse is a super star inspiration! Her grounded, "from the heart" take on handwork and stitching has inspired thousands of folks globally. She'll be sharing her process that guides her creative work and life as a designer as well as lead us through some intimate experiences with making. She's an old soul that sees the world through a lens of generosity and uber creativity. To learn more about Denyse, please visit here.
HERE ARE SOME OF THE ACTIVITIES WE HAVE PLANNED EACH WEEK
* Several workshops covering a variety of creative projects led by me and my guest artist's David Butler and Denyse Schmidt. Workshop specifics will be shared prior to the trip. Each guest will also receive a beautifully curated 'goody bag" that will include some of the materials for our projects.
* Explore historic sites and the exotic, colorful Souks in Marrakesh.
* Explore traditional craft and create with local artisans
* Learn about the authentic preparation of Moroccan cuisine from Chef Tarik on an organic farm.
* Traverse the historic streets of the seaside village and UNESCO World Heritage Site, Essaouria.
* Ride camels on the shores of the Atlantic Ocean.
* Enjoy luxurious spa treatments and a traditional Moroccan Hammam at Les Bains des Marrakesh.
* Experience the traditional art of henna on a rooftop with cocktails and views of ancient olive groves.
* Savor deliciously prepared meals at Peacock Pavilions
* Be entertained by a local storyteller or a fire dancer and delight in an outdoor cinema experience.
BEFORE SIGNING UP FOR HANDMADE MOROCCO
We ask that all potential guests read our TERMS AND CONDITIONS forms so you are aware of important details concerning your attendance of the retreat.
WHAT IS THE TIMING FOR SIGNING UP?

We'll send registration information to our "1st Contact List" on April 13th. This group will have the first opportunity to book a spot for the retreat. We will then open up registration publicly on April 17th. If you'd like to be added to our "1st Contact List" please email workshops@amybutlerdesign.com and ask Susan to add your name and email address.
JOIN OUR FREE INFORMATIONAL ZOOM WEBINAR
Wednesday April 13th from 8pm – 9:30 EST
Susan Robson, our retreat organizer is hosting this meet up with me to go over everything HANDMADE MOROCCO, including the Terms and Conditions agreement, COVID 19 protocol and more. This is the perfect space to ask a lot of questions. And we are excited to support you! It's also a beautiful space to get to know each other. I HIGHLY suggest you attend the meeting live if you can, OR I will post the link for the recording on my website after 4/14/22.
ZOOM WEBINAR LINK:
CLICK HERE TO JOIN THE ZOOM MEETING
WHAT HAPPENS AFTER I'M REGISTERED?
We'll follow up with a more details to support your journey. And as our trip approaches, we'll send you helpful information to prepare you for your adventure. What I've found is once you sign up the magic already begins! In the meantime if you have any questions please reach out to Susan at workshops@amybutlerdesign.com.