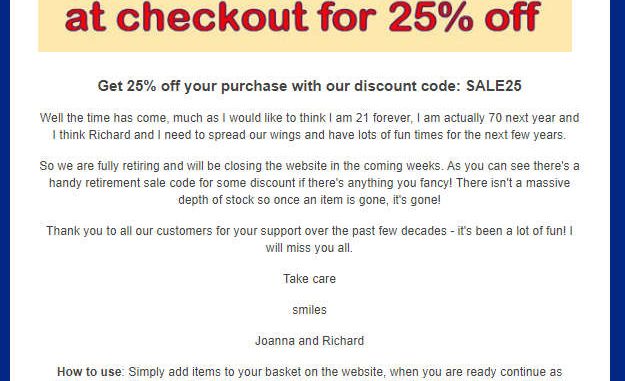 According to a message on Joanna Sheen's website, she is closing her website in the next few weeks because she is retiring. There is also a retirement sale for craft goods on the website.
Read the press release
Well the time has come, much as I would like to think I am 21 forever, I am actually 70 next year and I think Richard and I need to spread our wings and have lots of fun times for the next few years.
So we are fully retiring and will be closing the website in the coming weeks. As you can see there's a handy retirement sale code for some discount if there's anything you fancy! There isn't a massive depth of stock so once an item is gone, it's gone!
Thank you to all our customers for your support over the past few decades – it's been a lot of fun! I will miss you all.
smiles Joanna and Richard
How to use: Simply add items to your basket on the website, when you are ready continue as normal – then at Step 3 of 5 of the checkout process use the code SALE25 in the box provided – ensure you click on the USE VOUCHER BUTTON and check that the voucher has worked BEFORE continuing to the payment screen.
Please note after using the voucher if the value of order drops below £15 then a postage fee will apply.
I hope you enjoy this voucher – happy shopping
Joanna.
Link: https://www.joannasheen.com/craft-supplies/