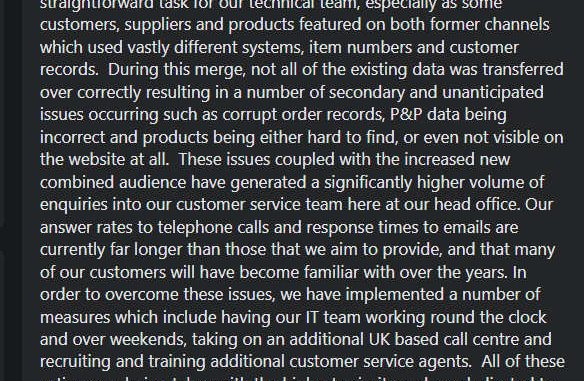 Here is an announcement by Create and Craft TV on its Facebook page.
From the screenshot
Please read our company update from Senior Management at Hochanda Global LTD.
As part of the merging of Create & Craft and The Craft Store, we inherited a high volume of product and customer data that needed to be combined onto one software platform.
This was not a straightforward task for our technical team, especially as some customers, suppliers and products featured on both former channels which used vastly different systems, item numbers and customer records. During this merge, not all of the existing data was transferred over correctly resulting in a number of secondary and unanticipated issues occurring such as corrupt order records, P&P data being incorrect and products being either hard to find, or even not visible on the website at all.
These issues coupled with the increased new combined audience have generated a significantly higher volume of enquiries into our customer service team here at our head office. Our answer rates to telephone calls and response times to emails are currently far longer than those that we aim to provide, and that many of our customers will have become familiar with over the years. In order to overcome these issues, we have implemented a number of measures which include having our IT team working round the clock and over weekends, taking on an additional UK based call centre and recruiting and training additional customer service agents.
All of these actions are being taken with the highest priority and are dedicated to resolving the delays that some of our customers have experienced. We hope that you will very shortly see these improvements take effect. Please accept our sincere gratitude for your patience and understanding at this time, especially with our Customer Service agents who are doing their very best to resolve any queries you may have as soon as possible.