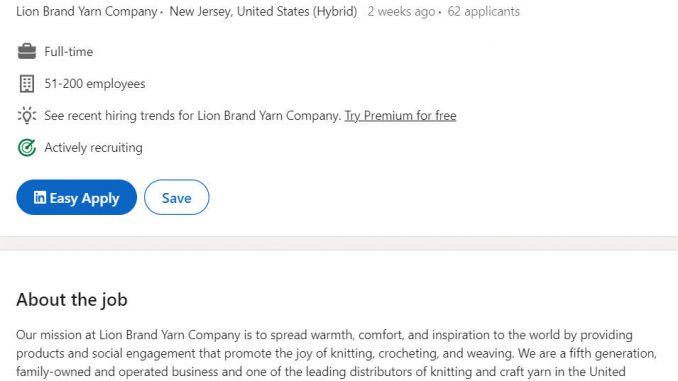 Lion Brand Yarns has a job vacancy for a social media manager.
Read the press release
About the job
Our mission at Lion Brand Yarn Company is to spread warmth, comfort, and inspiration to the world by providing products and social engagement that promote the joy of knitting, crocheting, and weaving. We are a fifth generation, family-owned and operated business and one of the leading distributors of knitting and craft yarn in the United States and other countries. We are a beloved brand since 1878. Based in Carlstadt, New Jersey, our yarns are sold online, at craft chains, discount chains, independent shops, and retailers both domestically and in international markets. Our extensive and rich history has resulted in boundless experience and stability and has helped shape us into the fast moving and high energy company we are today. We offer innovative products and best in class leading edge social engagement in the knitting and crocheting community and we are relentless in creatively pursuing the next great opportunity. Our team works collaboratively to explore and generate new and exciting ideas that keep our brand fresh and our category invigorated, as we fulfill our purpose to Create a More Colorful, Connected, Comforting, and Caring World!
The Social Media Manager is responsible for overseeing the company's interactions with the public by implementing content strategies for social media platforms. This associate must act with the Lion Brand Values in mind: Teamwork, Consumer & Customer Centric, Embrace & Lead Change, Work Smarter, and Have Fun!
Essential Job Functions:
Informs and executes overarching social media strategy.
Establishes KPIs to benchmark success.
Leverage social media to both drive brand awareness and further optimize eCommerce sales.
Become conversant on social media trends and nascent platforms.
Leverage learning and insight into commercially viable opportunities for the company.
Develops, informs, and executes against key marketing initiatives (i.e., Black History Month, Lion Brand Day).
Responsible for seasonal campaigns, etc.
Communicate early and often with the Design, Marketing, and Sales Teams around timelines and content.
Liaise with department heads to ensure teamwork and alignment.
Experience, Skills & Educational Requirements:
Bachelor's Degree in Business, Marketing, Public Relations, or related field required.
3-5 years social media management experience required.
Excellent written communication skills, with emphasis on proofreading and grammar excellence.
Proven knowledge of New Media.
Knowledge of knitting and crocheting, as well as a personal interest in yarn crafting, a strong plus.
Able to make creative suggestions in the interest of the organization.
Understanding of the concept behind Lion Brands' visual identity.
Passion for Lion Brand's mission and understanding of our vision.
Physical Requirements:
Work is performed in a standard office environment. Associate must be able to successfully perform the essential functions of this job, with or without a reasonable accommodation.
Link: https://www.linkedin.com/jobs/view/3044362587/